5 min
The site selection for a District Cooling plant involves the consideration of several factors in order to obtain the best results. Constructing a DC plant is markedly different from a residential or retail facility, as there are many different angles to consider, ranging from environmental regulations to special considerations. Once the DC central plant is complete, changing its location is in most cases not possible, and it is often abandoned or sold off when it becomes not adequate for satisfying the demand. DC Central Plant Siting is probably the biggest decision you will make regarding a DC system investment. What should you remember when choosing the best site for a District Cooling central plant? Here are some important points to get you started.
Local Climate and Geography
One of the characteristics of the regions of a country is their local geography. Especially aspects such as shoreline, mountain or plain land stand out. Soil conditions, drainage and topography are all also part of the local geography. For a District Cooling plant, these issues matter because they influence initial cost of construction due to the following reasons:
Mountainous locations can present logistical problems
Coastal regions have rampant salt, moisture and humidity, thus accelerate metal corrosion. They are also prone to floods and blizzards
Referring to local climate, open spaces, sizeable water bodies and topography have an effect on the DC plant characteristics. To prevent system hydrostatic loads, the DC central plant should be located at a high point in the system. This is especially important for a setup that contains a TES system. The TES tank should be at a higher elevation than the rest of the elements.
Potential for Future Expansion
Norms, regulations and standards change over time, and so does the demands for District Cooling. That is why you need to consider extra allowance for a bigger DC system in case of future expansions. If the plot is too tight today (with just enough space for facing the plant current demand), you may be forced to build a bigger plant in future in another location and close down the current one. Constructing two plants at two locations and coordinating operations may not be the optimum solution. Unless you are completely sure you will not be expanding it in future, always insist on the capability to expand.
Distance - Availability, Storage and Handling
When you place a DC central plant, you must analyze the effects of geography and distance in regards to delivery of raw materials, especially fuel. The same case applies for proximity to cooling customers, parts availability, and everything to do with the supply chain. If the central plant relies on electric driven vapor-compression chillers, there must be enough electric infrastructures. For CHP plants, fuel can have a huge influence on the site selection. For a natural gas powered plant, there is a little more flexibility. You can build a supply pipeline or simply locate the plant near an existing pipeline. Here are some more questions to be taken into consideration:
What distance will the fuel tankers need to cover for systems that use liquid and solid fuels?
Is the plant in close proximity to skilled workforce for supporting the operations?
Can the cooling energy reach the customers cost-effectively?
Politics and Government Policy
In regard to the applicable policies, your DC central plant site can depend on the presence or absence of certain structures that the government provides.
Check if there are any subsidies or incentives for establishing a District Cooling plant in the area. Maybe if you deliver cooling energy to government facilities there is some kind of special treatment.
Are there other District Cooling installations nearby? Analyze how they are taxed and regulated.
If you have global partners, it is worthwhile to check the exchange rate.
Permits and regulatory conditions can depend on the location of the DC central plant, and can affect both construction and operation. Therefore it is important to get all the details from the regulatory entity.
Other Special Considerations Related to DC
When looking at the regulations, standards and codes, remember that DC plants have unique features depending on the project. For instance, the design of large cooling towers needs special attention dealing with the drift impacts, e.g. Legionella. It is equally important to balance the cooling tower blowdown.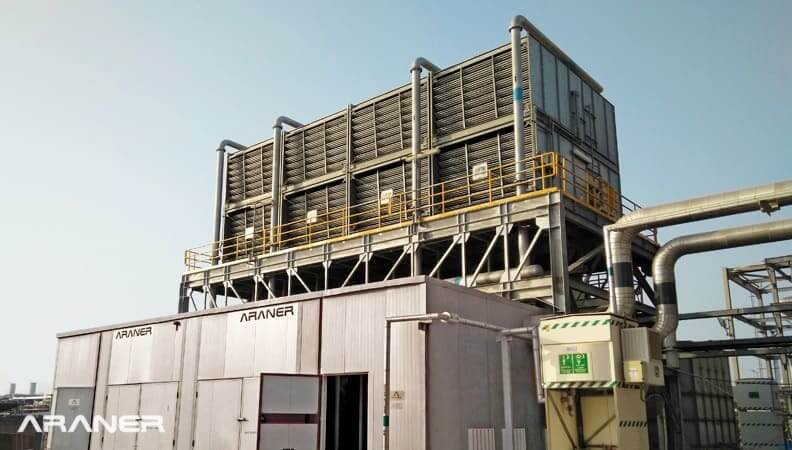 Fig 1: ARANER Cooling Tower
Nevertheless also when the heat rejection technology is not performed by means of cooling towers, noise levels, water treatment chemicals, big refrigerant loads and water spillages shall be taken into consideration during the DC central plant siting. The setup of surrounding buildings and the aesthetics can also affect the settlement of the central plants. Another factor to be taken into account is the location of the consumers, the piping arrangement to be executed and their height. Usually, several options can be revealed after a preliminary hydraulic analysis.
DC Central Plant Siting depends on many variables and factors that you must scrutinize before deciding. Weighting all these factors/variables is usually the most reliable method for selecting a site. Apart from taking into account the above requirements and regulations for District Cooling, remember to ensure that workers have the best possible working conditions at the site. The good news are that you do not have to do all of this on your own. We are experienced in feasibility studies for DC projects. Contact us today.