5 min
Some years back, operators sought to improve aged steam turbines using combustion turbines in a process whereby a reduction gear and combustion turbine took the position of original components (steam turbines and boilers). Soon after, reverting to the generator proved expensive compared to the savings, so conversion of only a few components became the most viable choice. That is how the term "repower" was born. It was subsequently applied extensively in the combination of old steam plants with boilers and combustion turbines. Nowadays, "repower power plant " is a wide concept that encompasses mechanical or thermal integration of systems. Initially, it was restricted to electrical power generation, but it is now applied in power and process steam production.
Applications of Repowering
In the Merriam Webster dictionary, repower is defined as to provide again or anew with power. The definition of power plant repowering is mostly associated with the installation of a new engine in a boat. That definition alone opens a broad range of applications for the concept of repower in the industrial sector, especially in power generation, where Araner is popular. The renewable energy industry is using repowering in a massive way, especially for wind and solar energy projects. The Global Wind Energy Council puts the current wind turbine fleet at 341,000, and most of the units need replacement. Since a wind turbine can only last for about 25 years, even units installed as recently as 2000 are on the verge of decommissioning. Only a drastic solution can salvage what is left of such projects. That drastic measure comes in the form of repowering, which is an update of the wind turbine such that new technologies are adopted and capacity enhanced. For the solar energy sector, repowering is being viewed as the next big thing, especially for utility projects. The installed capacity is in dire need of improvements to incorporate latest technology. This is crucial because installations are bound to develop production-negative effects mostly associated with degraded PV modules. Repowering for solar power plants is all about extending life, whether the plant has just finished its initial design life or already exists. Repowering for Araner-related projects revolves around steam power plants, Heat Recovery Steam Generators (HRSGs) and combustion turbines (CTs). It is all about repowering of thermal power plants, whereby the steam section of the power plant is replaced with Heat Recovery Steam Generators (HRSGs) and combustion turbines (CTs).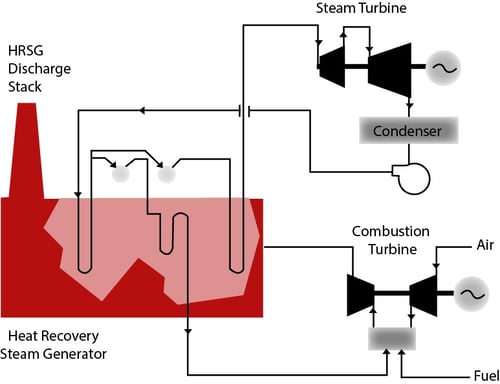 Fig 1: Combustion Turbine - Heat Recovery Steam Generator (Combined Cycle) Repowering
Reasons for Repowering of Thermal Power Plants
Repowering of thermal power plants yields numerous positives, most of which lead to cost savings. Power plants today are operating in an environment whereby change is constant, as less expensive renewables become part of the grid. To remain viable, conventional power plants must become more flexible without overdoing the operating cost aspect. They also need to reduce emissions. Operators and owners of such plants are at a point where development of long-term plans are inevitable. As long as the investment is justified by external conditions, repowering the power plant is an excellent idea. The good with repowering of a thermal power plant is the accomplishment of several goals simultaneously. One of them is the extension of the life of the plant by decades while promoting overall performance. Araner can augment various aspects of the plant related to availability, efficiency and output. Meanwhile, it is possible to maintain or even increase the amount of exhaust energy as required by CHP (combined heat and power) customers and others. The indication is that upgrades for repowering can combine enhanced operational flexibility and efficiency with improved environmental compliance. Repowering of thermal power plants can involve several components such turbine system, turbine blades, combustion system and compressor rotors/blades. Others are exhaust frame, casings and rotor. Owners could still make other changes like changing to an alternative fuel systems. The short amount of time ARANER needs to implement such changes is a regular outage of about two weeks, thus reducing overall downtime immensely.
Many conventional steam power and gas turbine plants globally require transformation to combined cycle power plants for better and cost effective performance. Considering the results for power plants that have already taken this path, it is safe to say that this conversion leads to remarkable improvements of the thermal network in terms of efficiency and profitability. Asset maximization and satisfying market demand are some of the key issues repower power plant projects by ARANER seek to achieve. Contact us if you desire to enjoy the benefits of repowering of a thermal power plant easily and now.