Nowadays, refrigeration and supply of cooling systems has become vital for some of the most important markets, like Oil & Gas, Food & Beverages, Pharmaceuticals, and Energy Production, among others. Reduction of the greenhouse effect and other drivers have influenced the impulse of innovative solutions in efficiency systems like Thermal Energy Storage (TES). TES systems reduce the footprint of their industries and result in saving energy and money for the companies that have bet on this type of cooling system.
New technologies to burst out in 2019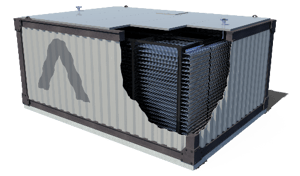 Figure 1: Araner Ice Storage
The most-used TES technology these days involves the production of chilled water during slack periods (mainly evening or night), which is stored in large tanks to be used during peak hours. There are other technologies, such as ice storage or salt storage, that are also still in use. It is estimated that the global market value for commercial refrigeration equipment is set to increase with a compound annual growth rate (CAGR) of 4.5% per year during the next two years. This means the market will reach $35.3 billion by the end of 2020. For this reason, new technologies and methods are being studied and promoted in order to take part in this valuable market through different innovations.
CFD modelling applied to tank design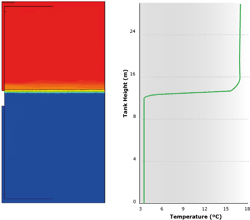 Figure 2: CFD Simulation (Study Information)
As seen in some of ARANER's previous posts, Computational Fluid Dynamics (CFD) is a powerful tool that—in companion with 3D simulation and modelling programs—can suppose an important improvement to optimize TES tank design. Click here to view a 1-minute demonstration of CFD. Requirements for thermal energy storage systems vary greatly depending on different parameters, like the application of the TES, the surrounding conditions, or their capacity. Setting up a methodology of analysis, CFD modelling can be of enormous aid to attend to these parameters. With only the introduction of the expected conditions into this type of computer program, a high grade of optimization of the thermal gradient inside the tank can be achieved, reducing thermal losses. Besides this, by simulating different values in key parameters such as the shape of the tank, the position of diffusers or the inlet velocity, an improved design of the tanks and their characteristics can be accomplished. Other possible uses for CFD simulations in this field could be optimization in operative conditions of existing TES systems or modification of current TES systems to face an increasing demand of refrigerating streams in the industry or residential areas.
Optimized diffuser configuration for thermocline reduction
Reduction in the thickness of the thermocline in Thermal Energy Storage influences the efficiency of the system. The narrower the thermocline, the better performance can be achieved. Different ways exist to achieve this reduction in the thermocline—for example, a decrease in the inlet velocity—but most of the parameters that can be modified may affect the energy efficiency of the TES system.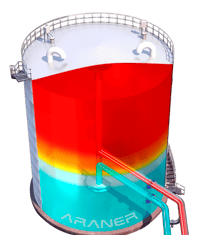 Figure 3: Tank Diffuser Device
For this reason, diffuser designers have been working hard over the past few years and will keep working hard during the coming years to design more efficient diffusers in terms of thermocline reduction. In this sense, diffuser geometry is also fundamental to minimize the loss of head. The reduction of energy losses will allow a higher capacity while spending the same energy, and as a consequence, the thermocline width will be reduced, gaining in energy efficiency. From another angle, the distribution and location of diffusers are just as important as their geometry. In recent times, R&D projects with the collaboration of CFD modelling systems are starting to study the different positioning of diffusers, along with the location and number of inlet and outlet conducts and other parameters. All this with the purpose of optimizing the charging and discharging times, reducing energy losses, and thus reaching an improvement in overall energy efficiency of the system.
Conclusion
Trends in Thermal Energy Storage for 2019 are influencing a paradigm shift in this field, transforming uses and applications of TES not only in the industry, but also in residential and commercial areas. All this thanks to the effectiveness and versatility of existing and future TES solutions. Some of these trends include the use of new techniques for CFD modelling and R&D efforts into studying better location and design of diffusers for a reduction of the thermocline and an increase in energy efficiency. ARANER is a company that specializes in tailor-made design for Thermal Energy Storage. With the emergence of new industry challenges and innovations, ARANER will adapt its TES technologies through the changes and evolution of future necessities.