The debate over what is "the best" commercial refrigerant has been around and is unlikely to end anytime soon. Intensity on this matter is even increasing as leakage studies reveal the adverse effects of HFC emissions. The only way out for centralized systems is emissions reduction, which while possible, is costly. The next refrigerant generation is offering low environmental impact that the industry can no longer afford to ignore. Although there are many such refrigerants, R1233 ZD is one of the options.
Qualities of R1233zd Refrigerant
R1233ZD is a non-flammable refrigerant ideal for pressure centrifugal chillers, which are common in cooling systems for large buildings. While it offers equal efficiency to R-123, it has better capacity. This low GWP refrigerant was introduced just recently as a replacement for R245fa. What makes it a better refrigerant in view of the direction the HVAC industry wants to take?
Fig 1: Comparison of Fluid properties for R1233zd and R245fa
Originally designed as a blowing agent or foam propellant, this hydrofluoroolefin (HFO) refrigerant
offers incredible environmental benefits. An ozone depletion potential (ODP) of between 0.00024 to 0.00034 and a maximum global warming potential (GWP) of 6 have created excitement in the market. Although this refrigerant is an HCFC and so it carries ozone-depleting chlorine, the good news is that it is not within the Montreal Protocol phase-out. These properties are close to characteristics of the ideal refrigerant:
Suitable operating pressures
Zero GWP
Non-flammable
Non-toxic
Zero Ozone Depletion Potential (ODP)
Appropriate volumetric capacity
Already, some manufacturers have introduced this alternative refrigerant into their centrifugal chillers. Of course, ARANER is in the thick of things in regards to adoption of such essential technology. Because of the already existent commercial production of the refrigerant as a foam-blowing agent and solvent, it would be affordable and present attractive payback period, considering the good energy efficiency.
The Role of Regulations
The commercial HVAC market is undergoing changes driven by connectivity, automation and unbeknown to many people, regulations. Governments are continually requiring equipment manufacturers to shift to chemicals that are safer to the environment. In the cooling/ refrigeration market, the result is that dangerous chemical refrigerants such as chlorofluorocarbons (CFCs), hydrofluorocarbons (HFCs) and hydrochlorofluorocarbons (HCFCs) are being replaced with environmental friendly ones. Figure 2 shows three sets of refrigerants that form the basis of discussion in the industry today.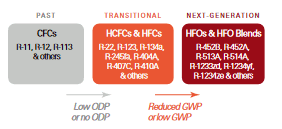 Fig 2: Evolution of Refrigerants
As the regulations take effect, as a major player in the market, ARANER has the noble duty of helping customers transition. For instance, we need to design, build and install chiller components such that they are compatible with the next refrigerants generation. Hitherto, the HVAC industry has used many refrigerants. Some refrigerant have already undergone phase out and others phase down. Possible changes are also likely to be effected in future. Regulation-based and voluntary guidance measures work in tandem to place important limits in the refrigeration market, which in turn lead to exit and entry of refrigerants. The Kyoto Protocol in 1997 and the Montreal Protocol in 1987 have made the industry stricter because of global environment considerations. These regulations are specifically putting pressure on the industry to drop high GWP refrigerants and replace them with proposed alternatives. Hydrofluoroolefins (HFOs), which are also referred to as unsaturated Fluoro-chemicals, are the new song. R1233zd is one of these increasingly popular options. Whether the issue is global warming or ozone layer depletion, the HVAC industry is committed to reducing environmental impact even as it promotes safety and efficiency. As the pressure towards these goals increases, R1233zd and other next generation refrigerants increase in relevance. Given the activities targeted at current-generation refrigerants, it is evident that the next refrigerants generation will eventually take over from natural refrigerants such as CO 2, ammonia and propane.
Advantages of
r1233zd Refrigerant
Different sizes of chillers are compatible with different types of refrigerants. R-1233zd is a new and widely accepted refrigerant for high capacity centrifugal chillers for its attractive properties that allow replacement for R-123. As standards and regulations are updated to enhance the uptake of this and other refrigerants of the future, what should the consumer do? The best thing right now is to stay informed and remember that the transition is on the way. As you choose a refrigerant for your cooling applications, remember to observe a balance of environmental impact, safety and cost impact. That is the only way to protect your investment. With over two decades experience in the cooling industry, ARANER is willing to collaborate with you for reliable solutions in the face of future challenges.
Araner collaborates closely with developers and planners to create tailored district energy solutions. We specialize in designing and implementing state-of-the-art district heating and cooling systems that align with the specific requirements of each project.

If you're searching for a dependable energy solution that meets your needs, reach out to our team and discover how we can assist you.