The rapid evolution of information and communication technologies has affected daily life in many ways: our ways of working, of spending our leisure time, of doing business, of travelling… All these different changes have influenced and will influence the development of so-called "smart cities". New challenges are arising, like constant population growth in big cities, in conjunction with global warming due to climate change. Solving these challenges will require greater effort in increasing the efficiency of important utilities, such as water or electricity supply. In the future, a holistic point of view will be necessary in order to better approach the cooling requirements of residential districts.

District Cooling in Residential Areas
District cooling covers the generation and distribution of refrigeration streams in district networks. The development of smart district cooling systems aims to improve the management and use of energy demands. The creation of digital appliances and innovations has been of crucial importance in the advancement of energy management in residential areas. In addition, the application of new technologies (Internet & digital solutions) has influenced the optimization of thermal energy resources in temperature meters and chiller substations.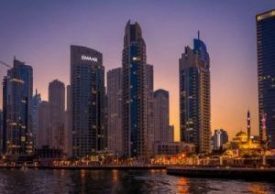 Dubai, UAE
The district cooling systems applied to smart cities are based on the supply of cooling streams by connecting a network of customers to a cold source via a pipe network. Chilled water is distributed to the customers, extracting heat and thus cooling the building. One method currently used in district cooling systems is to use local resources like sea or lake water (free cooling) or to combine different renewable energy sources, depending on local conditions and users' needs. However, new equipment is being tested and applied to reduce energy consumption as well as water resources. Integration with renewable energy sources helps to make the system even more environmentally friendly. Some districts in the United Arab Emirates, more precisely in Dubai, have already implemented their first networks with smart district cooling systems, taking a meaningful step forward into the future of district cooling.
Application of New Technologies to Optimize Smart District Cooling
During the last few years, important efforts have been made in different areas of research and development (R&D) related to smart district cooling, such as: the development of new materials for components and technologies, evolution in the management of supply and distribution systems, ICT applied to smart metering or new urban planning solutions, among others. Delving further into cooling supply, smart district cooling networks will manage supply needs through the intelligent use of new innovations like adsorption or absorption chillers, and through appropriate control systems using information treatment through two-way telecommunication networks and other smart components. Those systems, taking into account the availability of stored energy, residual cooling streams and power generation, will be capable of balancing the heating and cooling available. Furthermore, recent advances in Artificial Intelligence and machine learning, as well as big data management, are leading way to new projects and pilot tests focused on exploiting waste heat and cool streams from industries, municipal facilities or private consumers, to use as energy sources to enhance efficiency in the use of district cooling.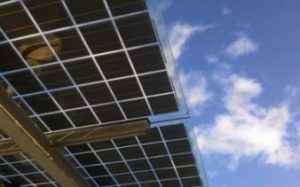 Solar panel grid
In this sense, new, more efficient models are being studied that can be applied to smart cities. One of these models, which is being applied in a pilot mode in New York City, is based on 'Microgrids'; that is, a group of interconnected loads and distributed energy resources that act as a single, controllable entity with respect to the grid, and that can connect and disconnect from the grid to enable it to operate in both grid-connected or island mode. In other words, the model aims to turn electricity consumers into producers, optimizing the power supply systems. Microgrids combined with district cooling networks could be a powerful system to optimize power consumption and involve the citizen in changing from the current city model to the future smart city model.
Conclusion
The previous model of cities in the twentieth century is being rapidly replaced by the new, more efficient model of twenty-first century smart cities. The evolution towards this new model is being achieved thanks to the application of technological solutions to essential municipal utilities, like water supply or energy production and distribution. The applications of district cooling systems will play an important role in accomplishing these goals. Different, new technologies and innovations like absorption chillers, microgrids, and artificial intelligence systems will provide the necessary optimization to reach new district cooling networks for smart cities model.