District energy technology has come a long way. Cities across the globe are slowly accepting it as a reliable heating and cooling solution. District networks can be found in cities in parts of Europe such as Lithuania, Finland and Denmark. In North America, advanced district heating and cooling is well established, with a report done by Lauren T. Cooper and Nicholas B. Rajkovich putting the number of installations at between 6,000 systems in both Canada and United States. There is good progress in Asia too, with entities such as India and Malaysia actively involved in acceleration of the district energy market. The Middle East too has several installations that have been implemented by ARANER
.
Fig 1: District Cooling Plant in the Abdali District of Amman, Jordan
Looking at the trajectory the industry is taking; one cannot help but conclude that the future is bright for the solution. Energy efficiency is one of the reasons dhc systems continue to appeal to a growing number of cities and communities across the globe. We are going to unpack the relevance of this element for district heating and cooling systems.


Energy Efficiency in Cities
Ask any sustainability expert; one of the most effective ways to reduce emissions and promote energy savings is to improve energy efficiency in cities. So critical is this argument that the World Bank released guidance notes for city administrators in 2014.
Ask any sustainability expert; one of the most effective ways to reduce emissions and promote energy savings is to improve energy efficiency in cities. So critical is this argument that the World Bank released guidance notes for city administrators in 2014.
While buildings consume a bulk of energy globally, energy efficiency efforts are yet to be optimized for the same area. After noting the energy efficiency gap in cities, the World Bank recommends six focus areas namely Assessments, Buildings, Financing, Procurement, Transport and Urban Planning. You can read more about the notes here. In the words of Anita Marangoly George, Senior Director, Energy and Extractives Global Practice at the World Bank, it is imperative for cities to make the difficult decision of investing in the relevant areas, and in this case, advanced district heating and cooling.
District energy offers an excellent opportunity for cities to take the efficiency of their heating and cooling to the next level. The United Nations environment programme rightly refers to district energy as "a secret weapon for climate action and human health". Cities that have adopted the technology boast of reduced CO 2 emissions alongside enhanced energy efficiency.
Energy Efficiency Opportunities
A district energy system comprises of a network of belowground insulated pipes carrying cold or hot water within a district. A district can be a campus, neighborhood or city. The system forms a unique synergy between the generation and supply of cooling and heating.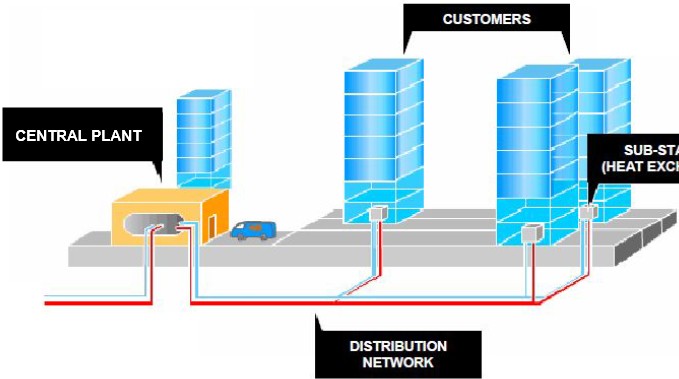 Fig 2: Components of a District Energy System
It can form a seamless integration with sewage treatment, sanitation, power and other municipal systems. Integration of energy grids that results promotes maximization of renewable energy resources, less carbon emissions, and above all, highly efficient cooling and heating.
It is admirable how dhc systems manage to do the following:
Reduce heating and cooling primary energy consumption by as much as 50%
Store large amounts of solar and other types of energy at incredibly low costs
Use heat pumps, thermal storage and cogeneration to integrate and balance unstable renewable energy
Use sustainable refrigerants in compliance with the Kigali Amendment to the Montreal Protocol
With such benefits, advanced district heating and cooling for cities provides superior energy efficiency when compared to alternative technologies. For instance, put alongside production of heating and cooling by individual buildings, district cooling often presents about 50% better cost effectiveness. Provided a city has substantial energy demand, there is no reason to ignore this technology.
ARANER- Taking Central Role in the Energy Efficiency Journey
Industry leaders seem to agree that the future of highly efficient cooling and heating in cities is advanced district heating and cooling. The world is ready for a sustainable future through district energy systems. You just have to look at efforts such as the UN's District Energy in Cities and the Global Energy Efficiency Accelerator Platform, which give impetus to this technology.
According to experts' analysis, district cooling is set to grow by US$10-30 billion from near zero, in the next five years. ARANER has been repeatedly contracted to implement this solution across the globe, and the transformation on energy efficiency are evident. Our installations bring the following benefits:
Energy efficiency
Optimized installed capacity
Improved reliability
Carbon credits- relevant for green technology certification
Reduced carbon dioxide emissions
Reduced peak electricity demand
Expert services- operation and maintenance
Concluding Remarks
District energy systems are attractive, but cities need to counter related challenges and obstacles for successful deployment. Cities looking to adopt this technology for the prosperity of their communities must identify and solve issues related to public acceptance, cost of feasibility studies, government regulations and expertise. Other factors to consider are the existing business models in regards to the energy sector, and tariff regulation. At ARANER, we have successfully helped cities navigate some of these challenges for district heating and cooling systems that are more energy efficient. We have the experience and expertise to help you optimize this solution.