The development of an efficient and sustainable smart city model has remained a top priority for ground-breakers and solucion-seekers around the world.
The potential of the smart city project is great: a radical shift from traditional city models, it uses data and increasingly efficient technology to provide a solution for multiple urban issues related to pollution and the general well-being of citizens.
In this context, smart city energy and the way it's sourced and efficiently managed stands at the heart of the possible advancement in smart city development.
Modern district city heating and cooling provide the right solution for this challenge, through new technologies and innovations which allow for an optimized and more sustainable sourcing and use of energy.
Learn about the challenges faced by the smart city today and how district energy offers the right solution for smart city energy.
What is a smart city
A smart city is an urban model that, by applying the right technology, seeks to improve its citizens' quality of life as well as its environmental impact.
As such, a smart city project typically includes the following characteristics:
Technology applied to the main city functions, from water supplies to public transportation and city heating and cooling structures, among many others
Decisions taken through data analysis
A transparent share of information with citizens
An explicit agenda to improve its environmental impact
The smart city development today: what are the challenges
The concept of the smart city has provided a compelling aspiration for urban planners and other key actors in recent times.
Faced with complex challenges (the world city population is expected to grow 2.5 billion more by 2050), the use of technology promises improvements in areas such as traffic congestion, pollution, and efficient and reliable city heating and cooling.
In fact, the smart city today could be considered a project in the making, which is still looking at ways to solve the issues delineated above.
In this context, the constant rise of resource and energy demands stands at the center of the key problems that an adequate smart city project should be able to solve.
The truth is that a smart city and its multiple technological systems require great amounts of energy to function.
Simply put, in order to meet environmental goals and minimize climate change, the smart city needs to guarantee a safe and efficient provision of energy that:
Is totally decarbonized and able to incorporate renewable, clean energies with a lower carbon impact
Through efficiency and data-analysis, it is able to match production and demand. As buildings are discovered to be great energy consumers and CO2 emissions, action must be taken to limit their impact
Is cost-effective
From this perspective, district heating and cooling structures provide the right solution for smart city energy.
The role of district energy in smart city development
District energy systems work by providing cooling and heating from a centralized energy-production location that is then distributed using an underground piping structure.
While this option has been around for more than a century now, recent technological developments have pushed it to the forefront as an efficient way to incorporate cleaner, renewable energy sources and move away from fossil fuels.
In fact, district heating energy sources include multiple sustainable alternatives such as:
Efficient heat pumps
Combined heat & power (CHP) plants
Large-scale thermo solar
Geothermal
Heat storage
Biomass
Biogas conversion
Centralized heat pump
Industry surplus and cool streams
CHP waste incineration
Service buildings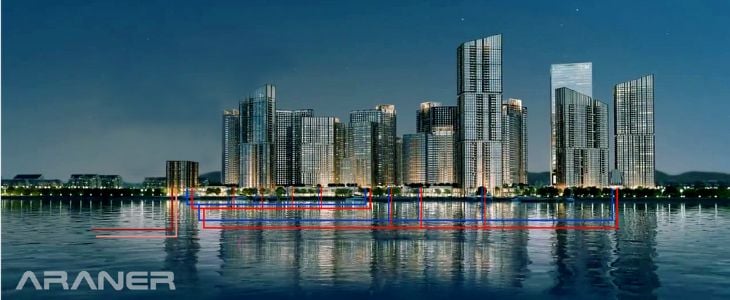 A number of technologies around district heating structures have also enabled higher efficiencies, including thermal storage, the use of waste heat, state-of-the-art absorption and adsorption chillers, microgrids, and the application of Artificial Intelligence.
Through the implementation of these, district heating and district cooling solutions slowly possibilitate cities to decarbonize as well as generate new, greener economic growth.
Here are some of the reasons behind this actual improvement in smart city energy provision and management:
A better performance because, placed on centralized locations, it's possible to include high-capacity equipment such as chillers and boilers.
Many district energy structures take waste energy into account and reuse it. Such is the case of cogeneration plants.This is further improved by designs able to minimize energy losses, including proper insulation systems
The use of modern

thermal energy storage solutions

is also pushing the possibilities of district energy to the front and meeting the high energy demands by smart city projects.
District energy models are able to incorporate renewable energy sources while guaranteeing a reliable energy production and supply, which was the significant challenge that many of these sources posed. For instance, efficient heat pumps can be powered by photovoltaic or wind farms, among other clean alternatives.
The reliability and cost-effectiveness is improved thanks to district energy's versatility. Local energy sources are prioritized and often various energy sources can be combined, moving away from the need to import fossil fuels. For instance, successful combinations of biomass and solar thermal energy are already taking place in district energy models.
The application of Artificial Intelligence and Big Data management facilitates the match between energy demand and production. In other words, it allows the central production plants to produce energy when it's necessary and store it when demand is not as high. It also enables a reliable service for peak-hour demand and has been successfully implemented in Jordan (such as the

Adbali District Energy Case Study

), as well as other city developments.
Microgrid models are also revolutionizing the potential of district energy systems in smart cities. Smaller, easier-to-operate grids are created which can then connect to the main grid or work in isolation. These allow for the creation of the prosumer: a new player in the energy board that both produces and consumes energy and that is able to optimize both processes in smart city energy.
The benefits of applying district energy in smart cities
A real solution to energy efficiency needs
As we've seen, achieving energy efficiency will be key to guarantee the future smart city development that can be considered sustainable and meets environmental criteria.
Through the technologies mentioned above, district heating and district cooling are able to reach operational efficiencies of up to 80%, building up from the efficiencies of coal-fired plants (which typically range between 35 and 45%). The cogeneration model through Combined Heat and Power technologies and the use of modern heat pumps for large systems stand out among the district energy solutions pushing efficiency to previously unknown levels.
Additionally, the use of thermal energy storage can balance the choice of several low-grade energy sources, thus allowing efficiency levels to grow even in what used to be considered inefficient scenarios in former times.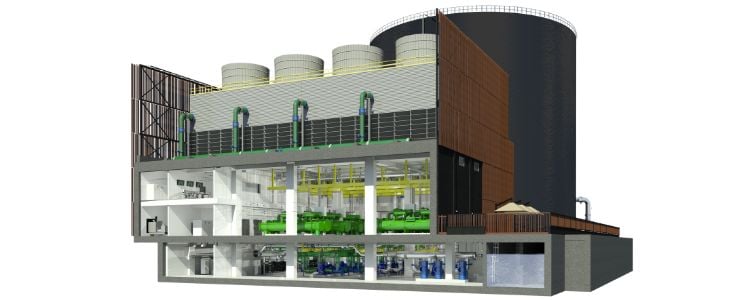 Reduced emissions and environmental impact
District energy sources work on multiple fronts to contribute to smart city efforts for less polluted, more environmentally-friendly urban models.
As particulates, CO2 and other polluting emissions become a significant issue across the globe, the smart city model must provide a decarbonized alternative. This is where district energy and heating can play a relevant role, as they provide the following benefits:
They help move away from fossil fuels and enter the possibility of using cleaner energy sources. The emission of less carbon dioxide and other pollutants is significantly cut down, and cities can move forward in their goal for sustainability.
They minimize energy production and make sure it matches citizens' real demands
They generate circular economy models where waste heat and thermal energy storage facilitate a more responsible use of resources. Through some district heating models and solutions, municipal waste and sewage sludge (among other items) can actually turn into valuable resources for a smart city and its energy plans. The emergence of the energy prosumer through microgrids (which we've discussed in previous paragraphs) also opens the door for more circular, horizontally-built models that are already shaping what future smart city solutions will look like.
A cost-efficient, low-maintenance system
One of the most remarkable benefits of district energy systems for smart city developers is that it represents a distinctively cost-efficient option. As simpler systems are needed on individual buildings, capital costs significantly go down in district energy investments.
The generation of local, green economies that use available energy sources must also be taken into account when considering costs.
At the same time, it frees-up space on individual buildings in the smart city, which can provide a wide range of architectural opportunities for valuable activities that generate economic returns.
Finally, maintenance costs are kept down for several reasons, mainly because of the centralized production of energy. As professional and specialized personnel take care of maintenance operations in chillers, heat pumps and cooling towers, their life cycle is extended, also drawing down costs.
Araner, your district energy ally for
smart city development
At Araner we work to develop district energy solutions that help developers overcome the energy challenges faced by smart city projects.
Through our district heating and district cooling solutions, we provide modern, top-class equipment and infrastructures with the aim of moving forward in achieving sustainability in urban energy models.
We provide value by developing pioneering and innovative solutions tailored to our customers' needs. We reach high efficiency and reliability even in challenging scenarios, and have already been in charge of developing 400 k TR in peak cooling capacity, 7 M Tons reduction in CO2 emissions and 2 M TR·h in TES storage capacities.
From this perspective, we show a firm commitment in helping developers achieve their highest ambitions in energy efficiency for smart city solutions.
Want to learn more about the most efficient possibilities in smart city energy today? Get in touch with us and see how we can help you