Sydney Smith (1771–1845) once said, "It is the greatest of all mistakes to do nothing because you can only do a little". In the context of our topic for today, this quote relates to the fact that energy efficiency is an inexpensive way of power plants to meet various both economic and ecological demands of today. The power generating industry is constantly seeking ways to meet a growing demand for energy efficiency in its operations. If you have been following our posts about gas turbine power augmentation, you must know that enhancements do not have to be high risk or expensive. That weather conditions can affect gas turbine performance significantly is a no brainer. Power output can reduce during summer in hot climates of the Middle East and elsewhere. So far, we have laid focus on Turbine Inlet Air Cooling (TIAC) and surveyed a few methods of achieving this. Even as we cool the turbine section, we cannot afford to overlook another critical area- the auxiliaries. Complexity of this system means that cooling is likely to be a major issue, but technology is providing some flexibility. In this regard, we introduce ARANER's contribution to advanced refrigeration in power plants through TRIM chillers.
Gas Turbine Auxiliary Systems
Optimization of a power plant does not have to stop at the gas turbine. ARANER can go further to optimize Balance of Plant (BOP). The company has a rich history of offering reliable solutions to oil& gas and power generation industries, also covering GT auxiliary systems. An auxiliary system is designed to meet a functional requirement in a cost-effective way. It is designed to make field assembly easy and reduce costs. Gas turbine auxiliary systems come in three broad categories namely Exhaust System, Air Intake System and Starting System. These are just the main systems so you can expect to find other sub-systems within this complex system that is so critical to turbine operation. Some examples are:
Fuel Filtration
Power Augmentation
Steam Injection
Water Injection
Gas Purge
Gas Conditioning
Lube Oil
Fogging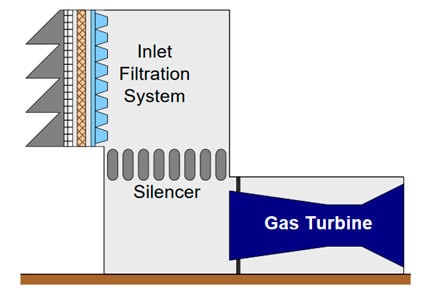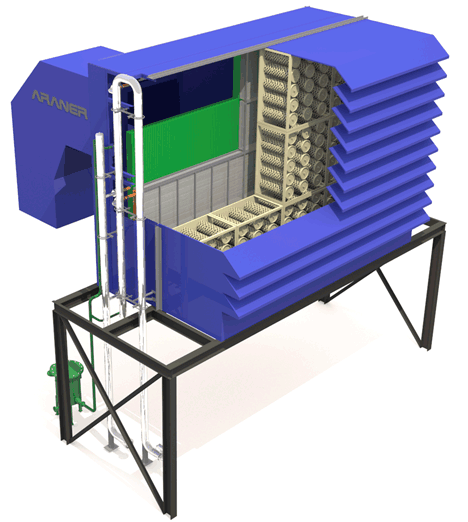 Fig 1: Turbine Inlet Air Cooling System
The listed gas turbine auxiliaries are critical for the overall efficiency of the turbine. That is the reason ARANER focuses on them in offering advanced refrigeration systems to power plants across the globe. So how exactly are we able to do this? The secret is in the TRIM chillers for cooling GT auxiliaries, which can offer Coefficient of Performance (COP) greater than 6.
TRIM Chillers
The GT auxiliaries listed above, like other components of the larger system, need adequate cooling. Initially, this cooling was done by fin fan coolers, also called air-cooled heat exchangers. While this was a very cheap and effective cooling method, it could not suit hot climates. For example, in the Middle East where temperatures can exceed 50 ºC in summer, fin fan coolers are unable to achieve the required low temperatures. Therefore, chillers form the perfect alternative for cooling auxiliary systems. To cover this need, ARANER has developed a special line of chillers for GT auxiliary systems. Designed for medium-small capacities and extremely high efficiencies, these chillers can work alone or pair with fin fan chillers to achieve the highest system efficiency. This type of chillers is referred to as TRIM chillers.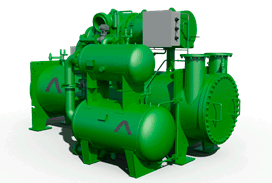 How does a TRIM chiller work? The setting and operation of this chiller is simple. Usually, this device works hand in hand with an air-cooled heat exchanger. In the Middle East and other environments where ambient air temperatures cannot cool the process fluid as adequately as required, a combination of air-cooled and TRIM chillers comes in handy. For lower process outlet temperatures, a series arrangement of a TRIM chiller and an air-cooled heat exchanger provides the perfect answer. The measure of a chiller is how much it enhances the performance of the system in question. One of the most interesting things about ARANER's TRIM chillers is their capability to reach COP of between 3.5 and 7. This means that these chillers can offer cold energy corresponding to as much as 7 times the electric energy for the compressor drive motor to the cooling coil. Chances are that the auxiliary components of your gas turbine never got enough attention in the initial manufacture. Understandably, the turbine as the main component received the first priority. With time, however, you can steer away from the idea of "similar to" initial design during replacements. Let ARANER be in the picture so that you can experience the benefits of advanced refrigeration systems for power plants.
Conclusion
The refrigeration cycle in a power plant can encounter efficiency problems because of high ambient temperatures. Increasing the COP demands improvement in the refrigeration cycle. Such improvement may require additional capital costs, which may not augur well with the plants profitability. TRIM chillers from ARANER help facilities steer away from higher capital costs while achieving impressive turbine performance.