The Energy Industry is undergoing massive changes, as focus turns to smart buildings, enhanced energy efficiency and centralized energy systems. Each stakeholder wants to boost the industry by designing customizable systems, a wide range of standard solutions and enhanced capabilities, putting into consideration the need for reduced energy consumption. At that point, there is an advanced, modern and efficient solution that is emerging: urban cooling and heating centralized networks.

A centralized network is an integrated system that provides chilled water to supply cooling and heating needs with the optimum performance and energy efficiency. As part of the system, the buildings are connected via underground pipes. It includes chilled and hot water production and distribution facilities to provide cooling & heating services to all connected buildings. Operating as a closed circuit, centralized cooling systems always include two pipelines: one supplying chilled or hot water to users, and the other returning the water to the production plants.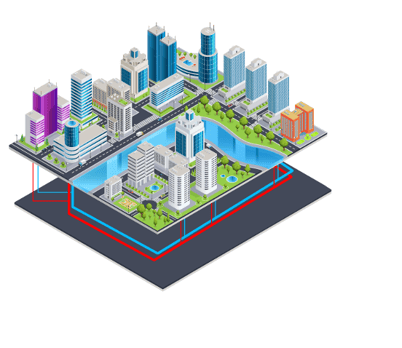 A Centralized Cooling and Heating Systems, comprises of the following major components:
Centralized energy plant
Distribution piping networks
Energy Transfer Station (ETS
High-efficient heat pumps
Pumping groups
Thermal energy storage tank
Integrated control system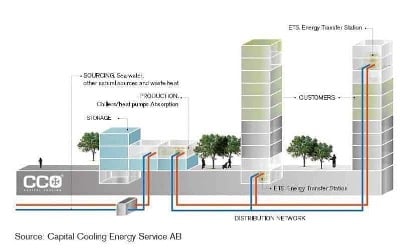 Fig 1: Centralized Cooling and Heating Systems major components
When customer buildings have been served, the water returns to central plant for chilling & heating and is then re-circulated.
Basics of Tailor-Made Designs
The uniqueness of central cooling and heating systems can be promoted in various ways. However, the most important thing is for the owner to determine what they need before the provider comes in. On their part, contractors will study factors such as environment, space, runtime, energy requirements and sizing. They then design the correct and fully adapted district energy system to offer a highly efficient and optimized solution. For clients that find it hard to outline their goals, it is imperative for the engineering consultant to guide and advise. Confusion is common given all the regulatory, financial, environmental and technical requirements.

Reasons for Tailor-Made Designs
The concept of tailor-made central cooling & heating systems is based on taking into consideration the actual energy demand conditions. Experience reveals that systems designed following closed all the requirements and developed exclusively for each project as a unique value proposition function better and perform improved results . And is not only higher energy efficiency but also more cost- effective installation and with longer system life expectancy. These benefits are appreciable for all the shareholders and stakeholders: energy companies, property owners and consultants.
Partnership
A tailor made design process ensures that the District Cooling and Heating Plants' (DCHPs) contractors and the plant owners form a solid partnership. Walking the owner through the entire process is important, as this is an opportunity to answer any questions. Such questions revolve around the government's role in the implementation of District Energy. As a utility, DC needs an adequate regulatory framework to protect consumers, providers and developers. Remember that government interventions vary from country to country, so the idea of tailor made designs makes even more sense. Generally, government intervention should cover three areas namely technical codes/service standards, designation of zones and tariff regulation. It is especially crucial to identify the high-density areas, as that is where centralized cooling and heating networks make most sense.

Not One-Size-Fits-All
When it comes to district cooling and heating systems, absoluteness has no place. Smaller does not always translate into higher efficiency and larger is not always better. The efficiency, reliability and size of the system are dependent on many aspects including ambient air conditions, utility pricing and government input. An adapted energy load profile simulation is the hallmark of precise system design, as it takes into account specific ambient conditions. It may be a strenuous process, but it minimizes errors associated with energy performance prediction.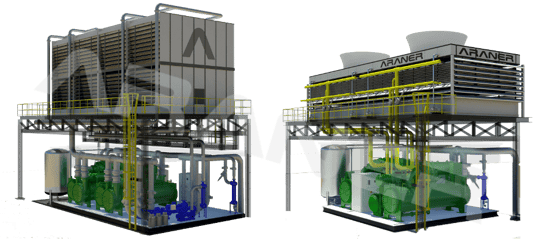 Fig 2: ARANER Tailor-made design as per project requirements
Distribution Network Is a Factor
The centralized distribution network that is incorrectly sized can lead to problems, for example Low Delta T syndrome. If the network is not strong enough to accommodate the increased water flow required by an oversized system, it might not work. Even if it does, insufficient flow will affect effectiveness and operating efficiency, leading to premature failure of the chiller and other costly components. We have seen cases where institutions have existing district energy infrastructure. Some may even have a chiller plant in place. For such projects, it is important to have all the details before recommending a solution that can possibly incorporate the old system.

Thermal Storage Tank: Save your excess, use it on demand.
Thermal energy storage (TES) is the process of collecting thermal energy for future use. Thermal energy storage operates like a battery, using a combination of cooling and heating equipment and energy storage tank to transfer energy production to off-peak hours, usually night time. Thermal Energy Storage is a technology commonly used in District Energy Systems due to its multiple benefits. The main benefit is the reduction of the District Energy Plant, as the capacity of the plant will be selected as per the average demand, not as per the peak demand. Another advantage is the efficiency increase.

Tests Help Size System Correctly
For central cooling systems to perform optimally, the District Energy contractor will conduct a number of tests. A good example is the hydraulic testing that is done for the distribution piping network to rule out any leaks. Since the test results can vary from one system to the other, it is important to have a tailor- made design.
Conclusion
Central cooling systems offer incredible benefits to increasing urban settings. They have been proven to provide operational efficiency, cost efficiency, environmental protection and comfort. However, it is imperative for prospective users to consider tailor-made designs if they are to enjoy the full benefits. Governments are urged to enhance interventions, as the long-term fuel savings and capacity benefits are evident. This way, the centralized energy technologies will play a huge role even in national development.