A look at Denmark's renewable energy progress reveals a transition over the last few decades that looks like an example in the current context of sustainability efforts. A closer look also reveals how this country has taken continuous steps towards sustainability over the last decades, showing just how the energy transition towards a green economy can be made.
Some figures can exhibit this miraculous transition we mention: the country has covered the 60% of their electricity needs by renewable energy and has been able to integrate 7 GW of wind and PV solar capacity into their electric grid, a figure that's expected to quadruple in the next 8 years.
These advancements have also meant Denmark now produces almost twice as much wind energy per capita as the runner-up among OECD countries.
This energy transition has also translated into powerful economic benefits, so that the country is now able to make energy-related exports and investments worth billions, while also guaranteeing energy bills for consumers and companies are lowered.
So how did this outstanding scenario take place? Here's a look at Denmark's renewable energy progress and how it can serve as a blueprint for other countries.
A look at Denmark's renewable energy progress
1. The goals
Denmark's renewable energy road is characterized by two goals:
To eliminate fossil dependence by 2050
To make at least 50% of energy consumption to be green by 2030
While these two deadlines seemed ambitious at first, we've already mentioned how Denmark's renewable energy policies have managed to reach a 60% percentage of renewable energies by 2022.
These goals are also accompanied by several other stops in the route for sustainability. This includes:
To promote the production of green hydrogen.
To supercharge offshore wind generation, including several energy hubs installed in Danish North Sea waters with up to 12 GW of generation capacity.
To double Danish exports of energy technology from 70 billion in 2015 to 140 billion DKK in 2030.
To build the world's longest electric cable, the Viking Link, at a cost of approximately 11 billion DKK.
2. The recipe for
Denmark's renewable energy progress
Up until now, the approximations towards these goals have been accompanied by abundant public and private investments: approximately 1 billion DKK were invested in wind and solar energies in 2018 and 2019; and 500m DKK were dedicated for energy research in 2018, making Denmark a leading country in funding for research and development of energy technology.
Finally, this recipe for success has one last ingredient: Denmark's renewable energy progress has been built on the basis of cooperation with the EU, seeking to coordinate with Member States' energy and climate policies.
As the route for reaching energy efficient cities and its best practices are increasingly considered
3. The sources
Bioenergy: bioenergy can be defined as energy that is stored in organic material or biomass. Today, more than two-thirds of Denmark's renewable energy comes from bioenergy, building from Denmark's important agricultural sector so that manure, animal fats, and straw are used for biogas and liquid biofuels.
Wind sources: Denmark's renewable energy of choice has long been related to wind, as some national wind turbine companies originated in the 1970s. Both onshore and offshore projects in the country are renowned worldwide for their innovation and capacities. For instance, in 2022, the then-largest offshore wind farm was installed off the coast of Jutland, with two other farms coming later.
Solar power: the use of solar panels linked to district heating initiatives has been successful in this country
Geothermal: there are currently three geothermal energy facilities in operation in Denmark, adding their bit to Denmark's renewable energy progress. +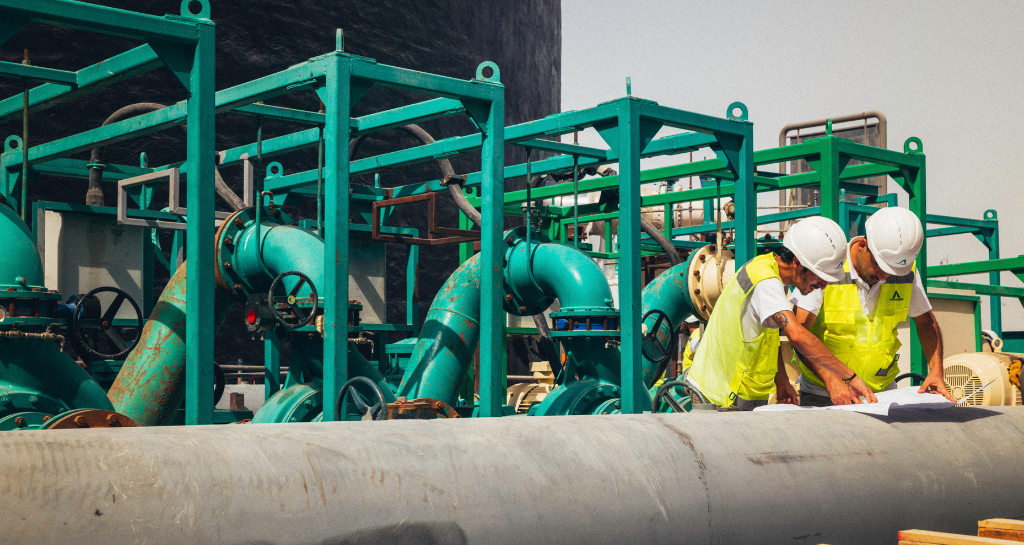 4. The prominence of district heating
While the use of renewable energies remains key to attain sustainable goals, achieving energy efficiency in heating is crucial to guarantee these systems are reliable and economically-viable in the short and long term.
This is particularly true in a country like Denmark, where heating demand adds up to an already high use of electricity due to their economic development.
The incorporation of district heating initiatives has made energy efficiency possible. Additionally, district heating systems paired with thermal storage technologies are guaranteeing that the incorporation of renewable energies (inherently intermittent) can be successfully managed, including their potential fluctuations.
Today, approximately two thirds of Danish households are connected to a district heating system, with more than half of the systems in the country being based on renewable energy sources and efficient industrial heat pumps.
The importance of the Heat Supply Act here shouldn't be underestimated, a law that regulates district heating in Denmark (as well as any other initiative regarding heating).
All in all, the outlook for Denmark's renewable energy progress seems to be tending towards the incorporation of low-temperature district heating systems. These DH systems are able to operate with supply temperatures of between 50°C and 70°C bringing in two advantages: the possibility to minimize heat losses, as there is a smaller temperature gradient (and thus increase efficiency), and the use of low-grade heat sources, including some of the renewable sources we've cited above.
As experts in sustainable energy solutions, at Araner we're watching Denmark's renewable energy progress closely recognizing the country's potential to act as a blueprint for other countries looking to improve their sustainability.
The country's combination of ambitious goals and public and private investments have translated into unmatched sustainability models. This outstandingly advanced and mature renewable energy market has thus become an example of how to advance towards sustainability while continuing to keep an eye on economic performance, ROI and lowered bills for households.
Both through our District Cooling and District Heating initiatives, our goals align with many Danish operators, investors and public entities seeking to push energy efficiency to the maximum and minimize environmental impacts.
Looking for a heating and cooling energy model that aligns with current opportunities for system optimization and energy efficiency? Look no further. Get in touch with our team and discover the latest advancements in efficiency through state-of-the-art district energy models.