The energy industry is always looking for ways to achieve greater efficiency and innovation. The fact is, although Thermal Energy Storage (TES) has been around for a while, it is still the most innovative solution on the market. Thermal Energy Storage allows us to store in tanks chilled water that was produced during off-peak hours (evening and night) for use during load peak hours (daytime). Throughout our time in the industry, ARANER has constantly innovated TES systems for better performance and results. In this post, you will discover an overview of different Thermal Storage technologies and applications. To get a deeper understanding of Thermal Energy Storage, download the TES Technologies and Applications eBook.
TES Technologies
The main Thermal Energy Storage technology is the TES Tank . The most popular type of tank is the naturally stratified water tank, shown in figure 1. As its name suggests, it uses a natural layer called the thermocline to divide the warm water from the cool water directly within the tank! Ice storage is another option, with water freezing in cooling coils and dripping into the tank. Thermal Energy Storage tanks take a lot of precision in order to get them exactly right. Each TES Tank is unique, designed and constructed for you specific needs and specifications. Without proper study of Computational Fluid Dynamics, diffuser design, load sizing, tank materials, underground or exterior placement, and other factors, your TES Tank could be faulty. That's why it is absolutely essential to place your trust in an established and experienced provider like ARANER.
TES Applications
Did you know that Thermal Energy Storage isn't relevant only to its own industry? It has applications in District Cooling, Power Augmentation, Oil & Gas, Data Cent ers, Commercial Real Estate, and more.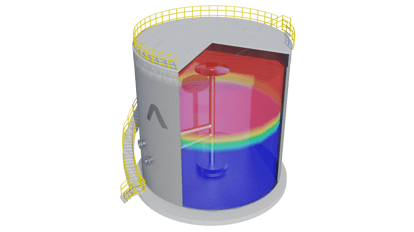 Figure 1: TES Tank that uses natural water stratification
District Cooling especially can make huge gains from the benefits provided by TES, given that it can reduce your DC plant footprint, provide back-up cooling, and reduce emissions. Combining TES with Turbine Inlet Air Cooling is another opportunity for Gas Turbine Power Plants that need to increase power output in their gas turbines. In the TES Technologies and Applications eBook, we highlight several ARANER Case Studies where Thermal Energy Storage is used as a solution for specific industries. You might be surprised how applicable TES is to your needs.
ARANER in the Thermal Energy Storage Industry
A big name in the TES industry, ARANER has decades of experience implementing Thermal Energy Storage systems around the world; this includes the largest TES system in the world in Riyadh, Saudi Arabia and the largest stratified TES system in Jordan. ARANER is proud to be a part of these world-record feats, but our true passion is helping businesses and customers achieve their objectives in efficiency and energy/cost savings. We are proud to have performed design and consultancy work for 60+ Thermal Energy Storage projects.
Conclusion
Thermal Energy Storage is a leading technology in the energy and cooling industries today. What's more, it will continue to lead the way in innovation and environmentalism, so an investment in TES is a stable and risk-free decision. Do you need a partner to accompany you along the way? After 25+ years in the industry, you can be sure that ARANER is the right choice. If you're not ready to make a decision yet, start by learning more about Thermal Energy Storage through our brand new e-book, which you can download by filling out the form below.