The technologies used to provide District Cooling are often standardized for 'plug and play' type uses in many different facilities, yet we anticipate different outcomes from these installations. While these standard options can do the job, they aren't ideal for many applications as provided. What happens if your system is one of those where the modular options don't seem to be a good fit? ARANER understands that unique applications call for a unique system. Here we will discuss some of the problems experienced with these off-the-shelf offerings and the need for customized energy solutions.

Standard Technologies Used in District Cooling
Modular District Cooling plants are a pre-engineered solution that allows for relatively quick and easy installation of a direct cooling system. They have all the components necessary to generate chilled water to the district in a self-contained, prefabricated system. Modular systems, built on a 'skid' in a manufacturing facility are then shipped, either as a whole or in sections, to the site where they are installed and connected to the piping that serves the district. These modular systems consist of a chiller of some kind, with the compressors, pumping and control systems necessary to operate them, they come prewired, and many have integrated cooling towers, fans, boilers, and generators as well. Classified by tonnage, these systems come in three sizes small, medium and large. The chillers in these systems are generally air-cooled or water-cooled and can be installed in a mechanical room without an enclosure or in the open environment with enclosures to protect the equipment from the environment. These modular facilities can be tailored to fit and may even be advantageous when there is a lack of workforce and materials for standard construction. However, there are drawbacks to using these systems.
Inherent Problems with these Systems as OEM Installations
Demand risk becomes a concern with modular direct cooling plants, can the system effectively meet the demand of its customers without concerns of excessive waste or underutilized equipment. There is a history of modular cooling plants, particularly those designed to provide short-term interim cooling, operating as much as 45% over the design point. The operating efficiency of modular cooling systems tends to be significantly lower than that of traditional plants since the controls are provided for each skid and not integrated between the skids. Modular systems also could occupy up to three times as much land area as traditional systems. In general, the aesthetics of a modular plant are not as pleasing, and overall modular plants have a higher cost of installation than that of most traditional projects.
Solutions to the Problems with OEM Installations
A well-designed and well-managed traditional District Cooling plant installation can overcome many of the drawbacks experienced with modular plants. ARANER can design a plant that will meet the needs of your project, in the smallest footprint possible. We can incorporate other technologies, such as Thermal Energy Storage (TES) to help meet peak demand well keeping the number and size of the equipment to a minimum. Fully integrated industrial controls allow maximum control and efficiency of a traditional system. Traditional plants can be designed to meet any aesthetic requirements or considerations, they can blend right in the city, a housing development, or anywhere else you need it to fit in. If anticipated demand immediately the cooling plant can likewise be built in stages ; there are several options for staging a traditional plant. First, you can pour all the necessary concrete footers, pads, and other supporting structures required for the entire project, but only install the chiller capacity necessary to meet the demand necessary for the first stage. Second, you can build a smaller plant to house only the structures and chiller capacity necessary for stage one. A second plant or subsequent plants can be built later when the additional capacity is required; additional plants can be located elsewhere in the district to allow optimization of the distribution piping or side-by-side on the same plot. Determine location by the availability of land area in the district for plat facilities, optimally two or more plants located at strategic positions will likely provide the best outcome from an operations and efficiency standpoint, especially in a large district.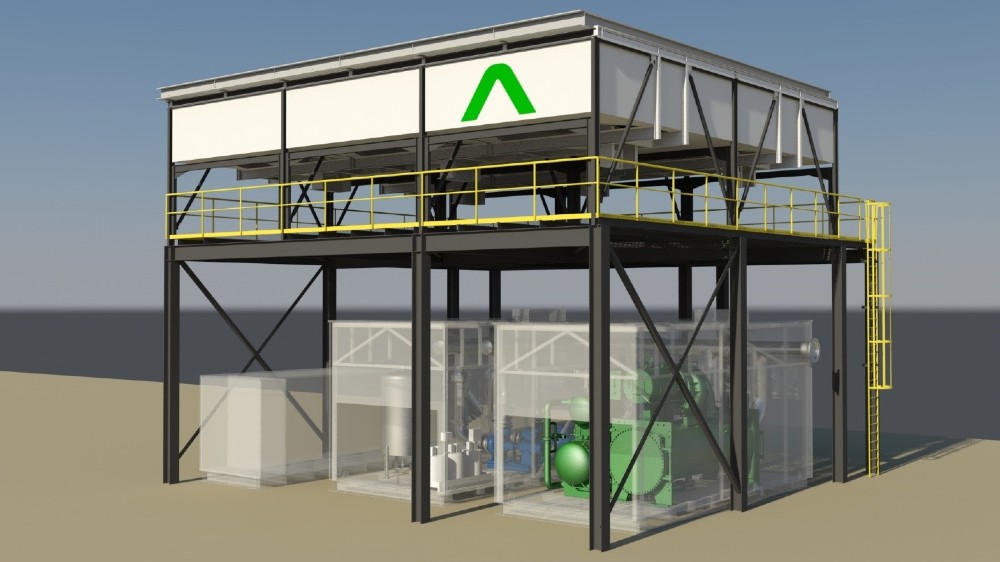 ARANER District Cooling Plant
Conclusion - A Custom-Designed System
As experts in the design, delivery, and installation of process cooling plants and technologies, ARANER is a preferred solutions provider by many clients across the globe. While we are capable of and do offer a range of Modular Chiller products and services, we prefer to customize facilities to achieve the specific objectives of our customers. Our focus is on custom-made solutions because we believe these give the best results to our clients. We have the product design expertise to provide our clients with engineering design solutions that make operational and financial sense. Here at ARANER, we use the latest, cutting-edge simulations tools, equipment, and machinery, and along with innovative project management practices on all our engineering projects, we have a reputation on delivering timely projects with high-quality results every time. Let us help you make your project everything you expect and run smoothly from start to finish.