The District Cooling Plant is crucial to the AYLA OASIS Resort Project Aqaba in in the Gulf of Aqaba, Kingdom of Jordan. Its purpose is to supply chilled water to the Energy Transfer Stations that will feed the luxurious residences, hotels and parks will form the landscape of this beautiful synthetic seawater lagoon.
Massive District Cooling System Needed
Analysts are estimating this development to cover in the excess of 4,300,000 m² commercial and residential space when complete. A project of this magnitude calls for very efficient and reliable heating and cooling sources, a reason the Ayla District Cooling project is eliciting so much excitement. At the heart of this is the innovative input of ARANER. Working with the local entities, the company has come up with a seawater based condensation solution. Combining both a yearly simulation and an extensive consultancy, the Ayla team was able to determine the requirements of the massive district cooling plant. They settled on three 2,000-Ton of Refrigeration centrifugal refrigeration chillers in 2+1 configuration for supplying . Seawater will be used for the chillers condensation system. In order to avoid corrosion due to sea water, full titanium condenser is installed. To control bio fouling and marine growth, the seawater will undergo several treatment stages.
Input by ARANER
While the district cooling plant needs to be robust and reliable, it should also be as autonomous as possible. With all factors in mind , ARANER designed a very easy-to-maintain cooling plant. Initially, standard centrifugal chillers coupled with secondary heat rejection systems were to be employed . This solution had several disadvantages including larger footprint, higher power consumption and higher initial cost. ARANER proposed direct condensation solution based on seawater cooled centrifugal chillers, a solution that brought immense annual savings in terms of O&M costs. Adding that to the demonstrated CAPEX savings, ARANER's solution was chosen as the most feasible. Since ARANER is a pioneer in district cooling solutions, the fact that this kind of solution had never been implemented before in this area is not surprising. A direct condensation system does away with secondary circuit installation. The company has invested heavily in R&D and has unmatched expertise in direct condensation technology. That is why the firm found it easy to implement this momentous project. They designed a new product line that includes Centrifugal Chillers prepared for Direct Condensation scenarios.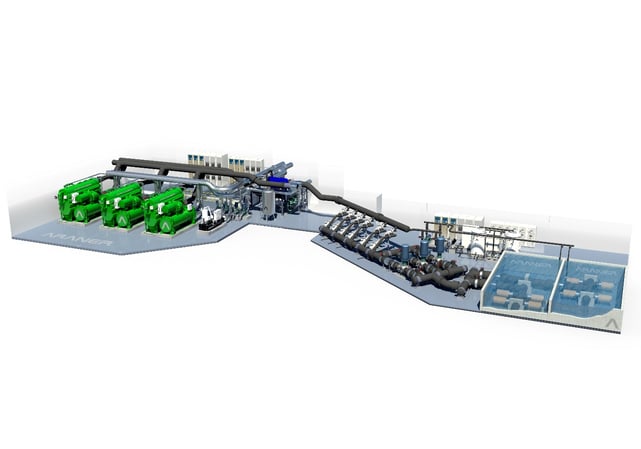 Unique Seawater Treatment
To add to the chiller optimization of this condensation solution, the team also proposed a seawater treatment system. For simple maintenance operations, the electrochlorination system operates without chemical additives and the filters are self-cleaning. The seawater optimization system has four components namely:
Seawater primary filtration
Seawater secondary filtration
Seawater third filtration
Seawater treatment package
Fully Integrated Control System
The fully integrated control system, which is the main control system, also has several crucial components that include Redundant PLC and User Friendly Human Machine Interface. The PLC communicates with a number of equipment including electrochlorination component, heat pumps and energy transfer stations. The machine interface carries energy consumption prediction, monitoring, data trending and other features.
Reliable Quality Assurance
Quality assurance is also on point, with an Inspection and Test Plan dedicated to each independent equipment. A factory acceptance test is performed for every main component, including chillers and pumps. After installation, a site performance test is also conducted in order check, under real operation conditions at site, that the performance parameters are as per guarantee. Commissioning and Plant Integration At this stage, ARANER focuses on two main things. First, to set all the operating parameters and second, to integrate the Energy Transfer Stations.
Results Speak For Themselves
The Ayla case study has high-level engineering results. They are much better as compared to the original solution. Find the results downloading Ayla Oasis Restort District Cooling case study. You will also note from the case study that there was a large footprint in the previous solution. ARANER has come up with a solution that not only performs better, but also occupies much less space. Data shows that the client will be able to save as much as 200 m2 of used space.
Final Word
ARANER is a leader in innovative technologies within refrigeration, cooling and heating fields. The case study of AYLA OASIS Resort Project Aqaba has proven that the company has a powerful combination of expertise and technology to undertake any project in these areas. Having successfully completed over 100 turbine inlet air cooling ( TIAC) projects in the Middle East alone and provided solutions for other markets as well, ARANER is raring to take its wide range of other capabilities to every corner of the globe. If you enjoyed this post, you may be want to know all about the service continuity for critical cooling application: ATS & HSBT.