As servers and data centers grow in importance, data center cooling has become a key issue for companies to address.
Simply put, electronic equipment is constantly emitting heat when in operation; at the same time, it must be at adequate temperatures to ensure correct performance or otherwise, system failures and downtimes may arise.
As data center cooling represents an additional source of energy consumption, the choice of data center cooling systems is not trivial, as it can make a huge difference to achieve economical and environmental efficiencies.
Discover the main data center cooling solutions today and how they help companies in their quest for optimized performance.
What is data center cooling
Data center cooling refers to the different systems that are put to work to ensure data centers remain at adequate temperature values.
As companies work to develop the data center of the future, two needs are inextricable from this space where computing and telecommunication systems coexist: the need for power and the need for cooling solutions.
Data centers are increasingly important in the current economy, as industries move towards digitalization and new technologies such as cloud services, IoT or Edge Computing arise. This translates into increased pressure on data centers, which must ensure optimal performance. Data center cooling stands at the heart of this need, providing the right structure to ensure excellent performance.
As such, data center cooling solutions include a number of solutions aimed at regulating heat and cooling temperatures, taking into account several additional parameters such as performance, energy consumption or cooling fluid flow.
Data center cooling is thus in charge of protecting the multiple electronic components to be found at modern data centers, including processors (which produce the biggest amount of heat) UPS, diesel generators, Hard Disc Drives (HDD), DRAMs (Dynamic Random-Access Memory) units, MV and LV Switchgears, or server racks, among others.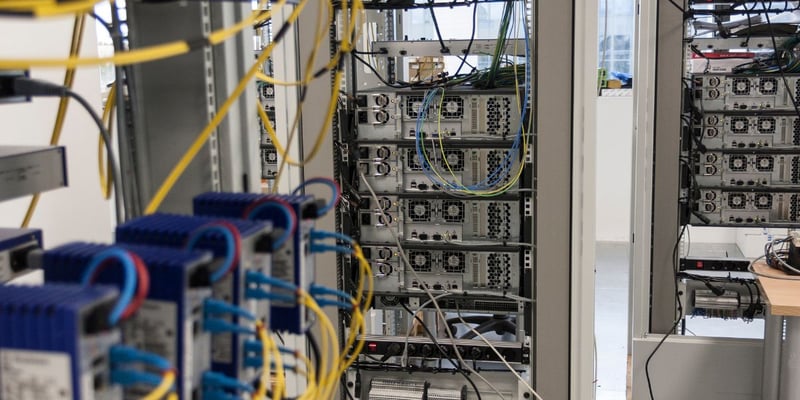 In order to do so, current data center cooling solutions focus on both monitoring temperature values as well as ensuring the equipment and space present optimal temperatures at all times. The role of data center cooling is also to comply with data center temperature guidelines issued by ASHRAE, which we explore further below in this article.
How does data center cooling work
Broadly speaking, it's possible to differentiate two cooling systems that are applied:
Liquid-cooled systems: use water to provide cooling, as well as dedicated equipment such as a Computer Room Air Handler (CRAH)
Air-cooled systems: based on the premise of hot air leaving the data center premises, it's based on Computer Room Air Conditioning (CRAC) systems, which monitor temperature and humidity levels and create paths for air control. In this case, heat is rejected through convection after air is supplied.
Today, air-cooled systems are generally considered as the most efficient system.
However, the choice of data center cooling solutions must be guided by expert cooling engineers, which will take into consideration factors such as the center's environmental conditions, the components in the area, the usage models and rack and room level airflow protocols, among others. Hybrid models are also being experimented with.
Components in data center cooling solutions
Additionally, there are a number of cooling components that are typically included in data center cooling systems:
Cooling Plant and heat rejection devices: these include a number of devices such as chillers (which may be water-cooled, air-cooled and seawater-cooled), pumps and heat rejection devices (cooling towers and air condensation units).
Raised-floor platforms: CRAH or CRAC equipment can be installed in this chilled space, creating cold aisles under servers.
HVAC equipment for temperature and humidity control.
Hot and cold aisle containment that support the previous solutions within a data center.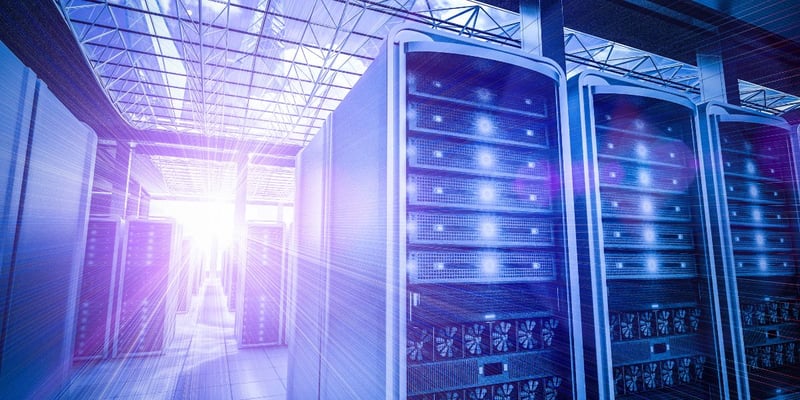 Devices to maximize efficiency in data center cooling
The search to maximize energy efficiency in data centers is key, and the choice of the right data center cooling systems plays a crucial role in this.
The latest data center cooling technologies are enabling key energy optimizations through advanced technologies that include:
Thermal Energy Storage (TES) tanks

: thermal accumulators that facilitate the storage of chilled water during off-peak times in order to recuperate it for later uses.
The management of waste energy and reducing heat waste is also providing great efficiencies. For instance, data centers located in cold climates use outside air or other natural sources for cooling; while warm climates are particularly focused on including condensation systems for chillers.

Modular and fully-integrated plants

are also increasingly preferred as a means to access efficiencies. These provide escalable models and are pre-assembled and standardized, avoiding costly and complex installation processes. They're also designed with maximum efficiency in mind, so that lower power usages are achieved, and facilitate maintenance through an easy replacement of modules for plant retrofit plans.
Guidelines for data center cooling
While each data center presents unique concerns and requirements depending on its purpose and equipment, the ASHRAE (American Society of Heating and Air-Conditioning Engineers) has issued thermal guidelines for data centers.
These guidelines include a number of helpful specifications when designing a data center cooling system that is efficient.
The most prominent are the recommended temperatures in data centers. The ASHRAE guidelines recommend temperatures should be kept between values of 18°C up to 27°C, which may vary depending on redundancy levels, the particular purpose of the data center and the IT equipment design criteria.
The guidelines thus specify absolute upper and lower temperatures to which equipment may be exposed without damage in non-operational conditions. Furthermore, the ASHRAE Thermal Guidelines specify three levels of equipment conditions or situations in operating equipment and associated system responses:
Reliability temperatures: these are temperature values that will ensure long-term operation of a specific component and are thus within cooling management requirements. In other words, avoiding operational failures equals the capacity to manage cooling to keep temperatures at reliability values or below.
Functional temperatures: at these temperature values, components are guaranteed to be functional. However, data integrity or functionality are not guaranteed beyond these temperatures.
Damage temperatures: components present temperature limits beyond which permanent damage is likely. Components will specify these temperature limits (for instance, when made of silicon, damage limits are specified on nameplates). In other words, higher values than the specified damage temperatures may lead to the need of replacements and shutdown situations.
Additionally, data centers must also follow particulate air contamination standards, such as ISO 14644-11 Class 8 and ANSI/ASHRAE Standard 127-2007, which address adequate levels of filtration, as well as recommendations by 2008 ASHRAE book for inlet facility air and the ANSI / ISA-71,04-2013 severity level G1 for gaseous contamination. Humidity levels also fall under ASHRAE standards.
ARANER: data center cooling for the future
At Araner, we commit to developing heating and cooling technologies that provide maximum efficiency and sustainability.
As such, we are at the forefront of designing and implementing data center cooling solutions where state-of-the-art equipment and structures meet optimal operations to guarantee efficiency in performance for data centers.
Some of the key features that direct our actions in data center cooling include:
The conviction that data center components must operate as a fully-integrated system. In order to do so, we have developed our own control systems where all information regarding structures, equipment and elements is gathered and considered.
In fact, through our own control systems we are able to guarantee full control and plant integration using intuitive Human Machine Interfaces (HMI), SCADA's and redundant EtherNet/IP as their communication backbone, as well as other common industrial communication protocols such Modbus, Profinet or BacNet. Additionally, our control systems are based on the latest PAC (Programmable Automation Controller), which guarantees the highest performance and durability.
The result is a seamlessly-integrated system that also allows for the incorporation of other automation systems and software platforms. The system is thus fully customizable, including the use of HMI alarms, color schemes, historical and real-time trends and built-in reporting tools.
As part of these modern data center control systems, we offer safety and redundant systems with the highest specifications from the industry but which also adapt to each project's requirements.
Our

modular cooling plants

present the right solution for adaptability in data center cooling. Adequate both for new projects and retrofit projects, they present a flexible, plug-and-play solution that maximizes energy efficiency according to each project's needs.
We keep energy-efficiency as a top concern in our data center cooling designs. As such, we are committed to leading the way on realizable energy-efficient data centers, applying our expertise in cooling and industrial design.
Our industrial-type chillers and robust control systems guarantee a continuous supply of cooling energy while the lowest electrical consumption is applied.
Having been part of the highly demanding projects, we're able to provide expertise in generating robust electrical systems and back-up systems for data centers.
Our projects in the data center cooling area can also be adapted to required TIER levels
Our goal is to improve processes and make them more efficient to guarantee data center cooling remains at the highest levels of performance and flexibility.
Want to learn more about data center cooling and what the current options for maximized efficiency are? Download our free data center cooling reference ebook or get in touch with us to speak to our team.