The need for a cooling plant is unquestionable on this times, there are some considerations at the time of sizing the plot for a cooling plant, particularly speaking about two scenarios:

1. New developments.
The planning of brand-new projects involves a perfect distribution of the spaces where the utilities will be located inside the development, in some cases, for example a Mall, there is not such space to accommodate a separate building for a cooling plant, being the main factor to have the maximum retail space available for commercial use.

2. Retrofit projects.
It is very normal nowadays to have a facility (power plant, utility plant, industrial process) running at maximum capacity and with the need of upgrading or adding more equipment to meet the cooling demand.
In this kind of projects, the space constraint plays an important role, because space for future expansion might have not been considered. A retrofit involves to have a solution that fits with the actual development and the existing utilities.
ADVANTAGES OF MODULAR COOLING PLANTS

Between all the advantages of a modular cooling plant, there are two that might be the most important:
1. Adaptability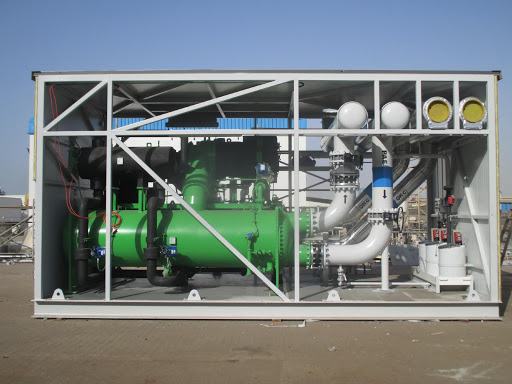 A modular plant plays a great role when a space constraint is involved on the project, being capable of deliver the work and be able to be moulded and to adapted to the available space. This can be achieved by an engineered space distribution of all of its components, utilizing a steel frame that can be tailor made.

2. Plug & Play
This kind of plants are tested before it's exportation to site, once the plant achieves its design conditions and is able to deliver the designed cooling capacity it is transported in sub-modules, being assembled onsite and commissioned with the minimum effort, allowing the following advantages compared to traditional Cooling Plants involving civil works:
▪ Less time mobilizing technical, supervising and labour personnel
▪ Faster installation, connection and commissioning
MODULAR COOLING PLANTS, CONCLUSION
As previously discussed, this solution is very likely to occur when there is more important to use the space to obtain benefits for example in a mall (brand new or retrofit), vaccination or any medical temporary facilities.
This kind of Cooling Plants allow the users to even move the equipment in the future and locate it in a different place if desired. Which makes this solution very space/footprint friendly.